Since I started this blog, all I've really talked about is food. At the beginning I talked a little about my intentions, but I haven't really talked about ME. Although I'm pretty everyone who reads this knows me already (I'm not that popular... yet), I feel like it's important to let you know a little bit more about myself and my ambitions: of which I am completely unsure.
Obviously I'm kind of obsessed with food; There's no other way to put it. I just love food. It's really not just eating, but
everything
about food that I love. Nothing makes me happier or more alive than this.
Yes, that's chocolate cake. On a knife.
But there's another part of me that is really interested in law and social justice. I've done mock trial since high school, and honestly, I'm good at it. I like figuring out the "puzzle" that is a court case: manipulating all the pieces until I make them into something truly convincing. I like the adrenaline rush that comes from being in front of a courtroom- the feeling that, in the past few years, has transformed from fear to confidence.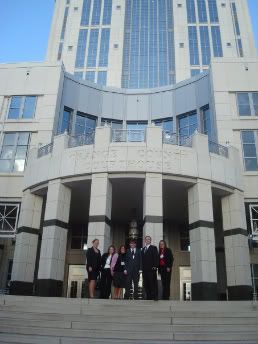 So here's the big question that has racked my brain for the past three years:
Culinary School or Law School?
I'm honestly just scared of both options. As a chef I'd probably make less money, have a more physically demanding job, and be giving up something I'm good at that I could use to help so many people. But as a lawyer, I think that one day, eventually, I'd stop liking my job. And I know I'd always wonder, "What if?"
"Passion is an overwhelming love for the experience of a favorite activity. Motivation is a drive to engage in an activity based on some reward the activity offers beyond the simple enjoyment of the experience itself. When you have great passion... you don't need any extra motivation. But motivation without passion can only take you so far" - Dean Karnazes